Silvano Mattesini, born in Arezzo on te 17th october 1950.
Silvano Mattesini graduated in Architecture in Rome in 1977.
He has been collaborating on various research projects in the capital since 1973 with the architects Luigi Pellegrin and Bruno Zevi.
In 1978 he became a teacher of Design and History of Art. He has various research posts in the Institute of Technology at the Sapienza University in Rome.
He is based in Rome, where he is also a planning and interior design consultant for a number of companies.
As President of the Cultural Association "XXX Ulpia Victrix" and "Archeos", he has organised several exhibitions of Roman military arms and armour.
He has also been involved in the reconstruction of helmets and other objects from Ancient Rome for many years.
He produces sculptures and paintings on the same theme of the interior design and he founded a company for the sale of these products, wich is based in Rieti.
In recent years he has been accompanying his exhibition "The History of the Armaments of the Romans Legions" to various cities throughout Italy.
He also collaborates with the City Council of Rome in a series of events called "The time machine".
Pubblications
"GLI ELMI DELLE LEGIONI ROMANE"
"LA STORIA DELL'ARMAMENTO DELLE LEGIONI ROMANE"
"LE LEGIONI ROMANE OGGI IN ITALIA"
"LE GRANDI BATTAGLIE DELL'ESERCITO ROMANO"
"MORTI ECCELLENTI NELL'ANTICA ROMA" - Ed. Archeos
"UN GIORNO ED UNA NOTTA NELLA ROMA DEI CESARI" - Ed. Archeos
"LE LEGIONI ROMANE" - Ed. Gremese
"I GLADIATORI" - Ed. Ass. Cult. ARCHEOS
"CALIGOLA" Catalogo mostra Museo delle Navi di Nemi - Ed. Gangemi
"IN ARMIS" Catalogo mostra Museo delle Mura - Ed. Arbor Sapientiae
"IL COLOSSEO ERA UNA CHIESA" - Ed. Palombi


PROGETTO DEL PARCO A TEMA SULLA ANTICA ROMA
2008 . 2011 Consulenza Comune di Roma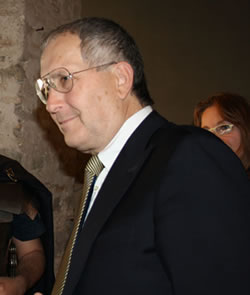 Italian newspapers that talked about our exhibit